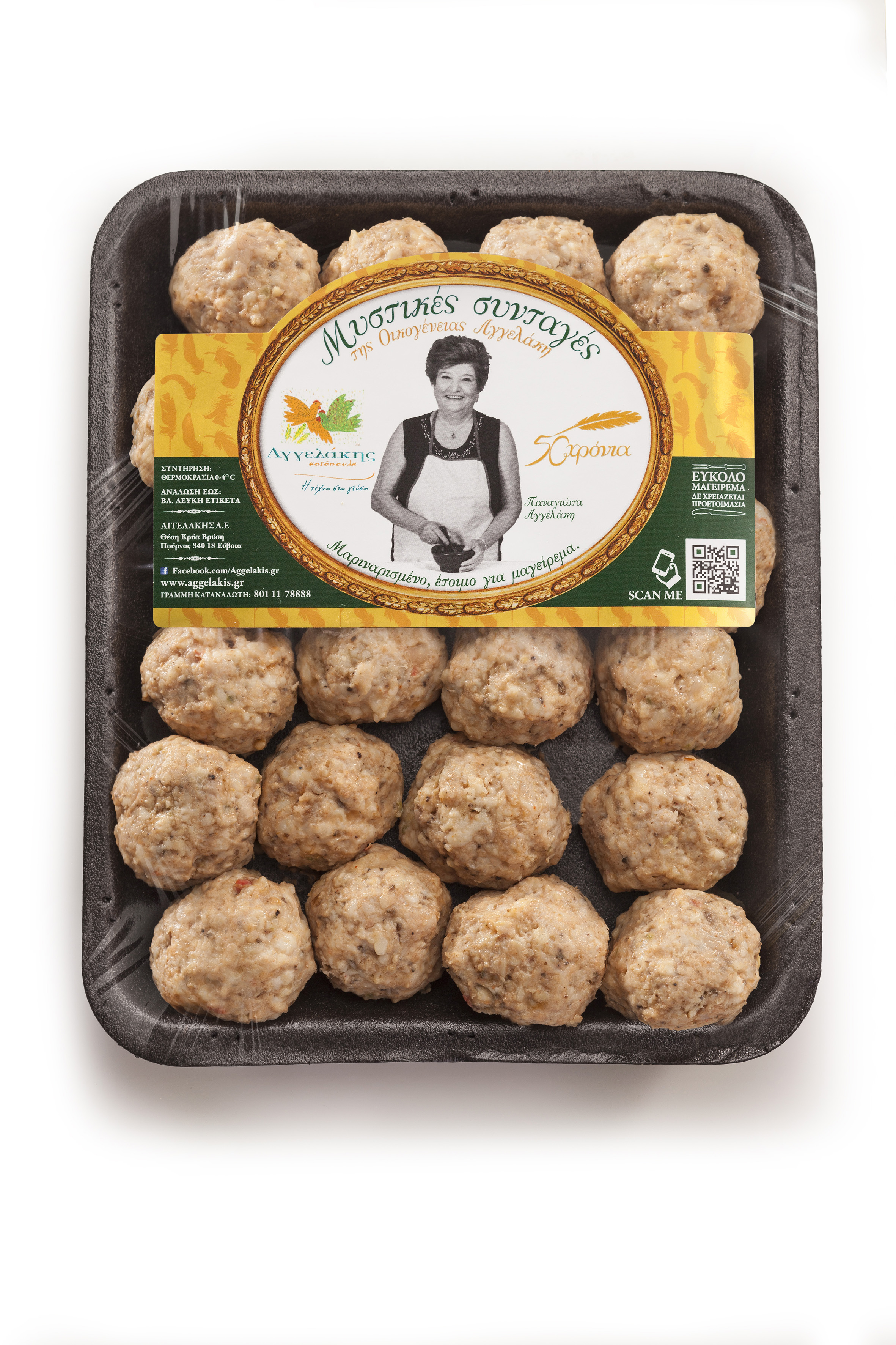 Homemade chicken meatballs with meat from fresh chicken filet AGGELAKIS and pure ingredients, a secret recipe by Ms Panagiota AGGELAKIS; they are preheated.
Ingredients: chicken filet, breadcrumbs, onion, bread, salt, spices
Indicative weight: 550g
Preparation
In a casserole or deep-fryer: fry in heated oil – chicken ball should be covered in oil – for 5′ in medium temperature (about 160˚C).
In a preheated oven: place a sheet of parchment paper on the pan and bake for 13- 15′ in 180˚C.
Useful Information
For our chicken meatballs we use minced meat from the chicken filet, as it is the most succulent part of the chicken.

The meat and the natural ingredients, i.e. bread crumbles, bread, onions, spices are squished using hands and the Secret Recipe of Ms Panagiota AGGELAKIS.

No preservatives, no flavor additives.
Just fry for 5΄or bake for 15΄since the product is precooked.
Διαθρεπτικά Στοιχεία

Energy
277kcal/1156kj
* A portion of 100g contains
Preservation:
The products can be preserved at 0-4˚C until the expiration date displayed on the packaging.
For a longer storage period, store the product in the freezer compartment. To prepare a meal, defrost it by placing it in the refrigerator for 24 hours so that it thaws slowly. Do not refreeze after defrosting.
Attention: To ensure safe storage of the product in the freezer for 1 month, you should store it three days after its production date at the latest.
Label information contains the following
Product name
Facility approval code
The indication that reads «fed with 100% vegetable feed, Vitamins & Trace elements», followed by an Agrocert Certification No
The Indication that reads «fed with 2% olive oil» followed by an Agrocert Certification No
slaughter date
expiration date
packaging weight
BARCODE
The breeding chamber No