OliVchicken breast, boneless and skinless.
Lean, however, juicy and tasty because it is an OliVchicken.
Fed with 100% vegetable feed, vitamins and trace elements
Fed with 2% olive oil
High Content in Selenium
Useful Information
The leanest (non-fat) part of the chicken.
The most succulent, tenderer, most delicious chicken breast thanks to the olive oil diet.
Ideal for people with special high-protein and low-fat diet.
Ideal for children.
Diversified fatty acid profile, rich in Ω9 fats.
Bake it, make chicken salads, use it for light snacks, make delicious chicken nuggets for the children and not just them! No matter how you cook it, you will know the difference!
The production process of the product is patented (OBI)
A portion of 100g contains
| Energy | Proteins | Carbohydrate | Of which sugars | fats | Of which saturated | Edible fibers | Sodium | Selenium |
| --- | --- | --- | --- | --- | --- | --- | --- | --- |
| 164kcal/686kj | 23g | 0g | 0g | 6,9g | 2,2g | 0g | 0,6g | 22μg = 40% of DRI* |
*DRI = Daily Recommended Intake 55μg
The above nutritional data correspond to the chicken leg and breast with skin, baked in the oven for one hour without adding any water, oil or spices.
By consuming just 100gr of Oliv Chicken, we can get 40% of the recommended daily intake in Selenium for our body and we contribute to: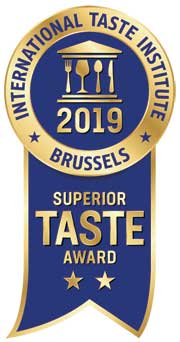 the normal functioning of the immune system
normal thyroid function
protecting cells from oxidative damage (antioxidant activity)
«The OliVchicken» received a 2 Star Highest Taste Award at the International TASTE INSTITUTE 2019 in Brussels.
Recommended cooking time
40′ / 180˚C (in a preheated oven for 15′ at 200˚C).
Preservation:
The products can be preserved at 0-4˚C until the expiration date displayed on the packaging.
For a longer storage period, store the product in the freezer compartment. To prepare a meal, defrost it by placing it in the refrigerator for 24 hours so that it thaws slowly. Do not refreeze after defrosting.
Attention: To ensure safe storage of the product in the freezer for 1 month, you should store it three days after its production date at the latest.
Label information contains the following
Product name
Facility approval code
The indication that reads «fed with 100% vegetable feed, Vitamins & Trace elements», followed by an Agrocert Certification No
The Indication that reads «fed with 2% olive oil» followed by an Agrocert Certification No
slaughter date
expiration date
packaging weight
BARCODE
The breeding chamber No